Thursday, September 10

, 6-9pm
Welcome to the Neighborhood 2015
Cease & Desist, 2331 Mission St, San Francisco, CA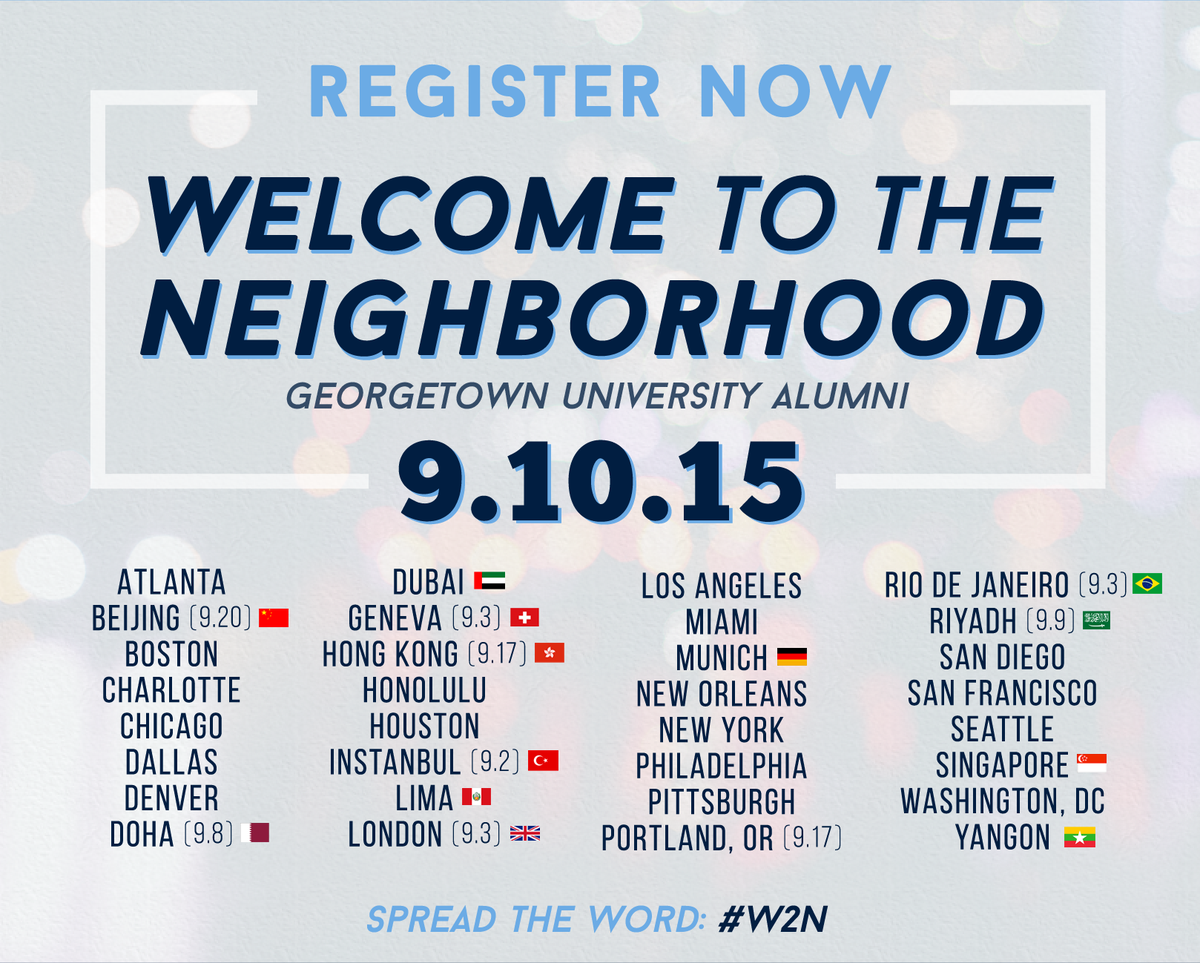 One of our favorite events of the year! We've had 100+ Hoya alumni at these events in the past, and we expect a similar if not bigger turnout this year. This time around, we will be bringing the party to the Mission at Cease & Desist, the newest bar offering from alum, owner, and friend of the club Ben Bleiman (C'03). We will have the upstairs mezzanine entirely to ourselves, with our own bar and fun arcade games! We'll also have raffle prizes, free appetizers, and happy hour specials from

6-8pm

: $10 off cocktail pitchers, $4 Sol Lager bottles (upstairs bar), and food specials. So come one, come all, to what is sure to be a memorable event as we welcome new Hoyas to the San Francisco Bay Area!
P.S. If registration is closed, we will still accept walk-in registration.
---
Sunday, September 13,

6-9pm
San Francisco Giants vs. San Diego Padres Tailgate/Baseball Game
AT&T Park
, San Francisco, CA
$40 includes hot dogs, chips, beer, sodas, and bleacher ticket
$5 tailgate only option also available
$5 discount for club members!
For more information and to buy tickets, please click here


That's right, as the playoff chase reaches the home stretch, it's time for our annual San Francisco Giants tailgate! Please join us on Sunday, September 13 for a tailgate and baseball game as the Giants take on the Padres. Also, if you're a current club member, you should have received an e-mail with a discount code for $5 off the ticket price. If you're interested in becoming a member, please follow the directions at the link here, and shoot us an e-mail at norcalhoyas@gmail.com, and we'll give you the code!
---
Club Officer Elections and Committee Chair Appointments!



We are excited to announce our upcoming elections and appointments for two Club Officer positions - Secretary and Treasurer - and SIX (one new!) Committee Chair positions - Events (new!), Membership & Outreach, Communications & Technology, Community Service, Networking, and East Bay.
Voting Members** of the club are eligible to vote on the Officer positions, eligible to run for an Officer position, and eligible be appointed to a Committee Chair position.
ELECTIONS for Secretary and Treasurer will be held online o
n
Tuesday, October 13, 2015
from

12:00am until 11:59pm

. Further details about where and how to vote** will be sent in a separate email in the coming weeks. For now, please mark your calendar!
APPLICATIONS for our open Committee Chair positions are due
September 22, 2015
and can be submitted by completing
this Google form
.
We hope you will consider becoming more actively involved with the NorCal Hoyas by running or applying for one of these positions. Of course, we are always looking for more
member involvement in our committees
, so please get in touch if you want to help out but can't commit to joining our board at this time.
** Please note that you must be a Voting Member in good standing to vote in the election or to serve as an Officer or Committee Chair. Voting Members are those who have
registered for a paid or free
(if less than two years out from graduation) membership. Not yet a Voting Member, or has your membership lapsed? You can
JOIN NOW or RENEW your membership here
. If you have questions about your membership status, please email us at
NorCalHoyas@gmail.com
.
---

September Member Drive!


It's September! That means it's time to welcome new alums to the Bay Area at Welcome to the Neighborhood (

9/10/15

). While we're at it, we'd like to welcome many more
new (or renewing) members
to the Club during our September Member Drive.
All alums with a Bay Area address in the University's database are automatically on
our email list
and get invited to our great programs and events. BUT, if you're a
registered member of the Club
, you get so much more! For just $30 per year (or $0 for alums from the most recent 2 graduating classes) you get --
- Discounted prices and/or early access to most Club events
- Discounted price on the Club t-shirt
- Exclusive access to member-only events
- The right to vote in Club elections and hold a Club board position
- The personal satisfaction of knowing you are supporting your local Georgetown alumni
!
Our Club is completely volunteer-run and we receive very little financial support from the University, so we depend on our members' support to offer all the great events and activities we do throughout the year.