Big East Tournament Game Watches!


Thursday,

March 12, 4pm PST

(TV: Fox Sports 1)
Georgetown Hoyas vs. Creighton Blue Jays
Bartlett Hall, 242 O'Farrell St, San Francisco

Happy Hour specials until

6pm

:
$5 selected beer and wine, $5 food plate, $10 beer + shot combo
To RSVP, please click here
Friday, March 13, 6:30pm PST

(TV: Fox Sports 1)
Georgetown Hoyas vs. Butler Bulldogs/Xavier Musketeers
Bar None, 1980 Union St, San Francisco

$300 drink tab for Georgetown fans, then drink specials all night!
To RSVP, please click here

If we win

Friday

...
Saturday, March 14, 5pm PST

(TV: Fox Sports 1)
Big East Tournament Championship Game
Lightning Tavern, 1875 Union St, San Francisco

$3 bottled beers, $4 well drinks during game!
To RSVP, please click here

In a celebration of the three locations that have hosted Georgetown game watches here in The City this past season, we are hosting (hopefully) three game watches (with a twist) this week for the Big East Tournament as our Hoyas strive towards the championship. First, we'll be at our weekday downtown location, Bartlett Hall,

on Thursday at 4pm

to watch the Hoyas battle in the quarterfinals. Then, if we win, our plan was to be at Bus Stop

Friday

, but because of a private party, we'll be down the street at Bar None, where the owner of the Bus Stop is buying us $300 worth of drinks for the trouble! Finally, if we make it to

Saturday

night's championship game, we'll be in the front area of Lightning Tavern, to hopefully watch the Hoyas bring home a trophy! Great drink specials at all locations. We ask you to please RSVP if you're planning on coming to any of the game watches, so we'll have any idea of the crowd we'll have.

Let's Go Hoyas! NCAA Tournament Game Watch(es) To Be Determined Next Week!

99 Days Young Alumni Happy Hour


Wednesday, March 18, 6-8pm
Buffalo Club, 2131 Mission St, San Francisco
To RSVP, please click here
As Hoyas back on campus enjoy their last 99 days before graduation, let's get together to reconnect with friends and classmates in the Bay Area. The young alumni class committees invite you to a happy hour at Buffalo Club, Ben Bleiman's (C'03) new bar/pizza spot in the Mission, we look forward to seeing you there!
The Ivy Plus Society: SF March Madness
Thursday, March 19, 7-10pm
Sugar Lounge, 377 Hayes St, San Francisco
For more information (lemon drop specials and more) and to buy tickets, please click here
The Ivy Plus Society has invited us to their March Madness mixer next week! For more information on The Ivy Plus Society, please check out their website here, and/or the website for their specific San Francisco chapter here. Also, here's a link to their most recent newsletter.
Two Nights with Georgetown College Dean Chester Gillis:


Monday, March 23

(Burlingame) and

Tuesday, March 24

(Tiburon)


Dean Chester Gillis will be lecturing on "A Liberal Arts Education: The Value Proposition." For more information and to RSVP, please click here.

"Sip for Scholarship" Open Bar for Third Annual Georgetown City Challenge


Tuesday, March 24, 6-8pm


Tonic, 2360 Polk St, San Francisco
To RSVP, please click here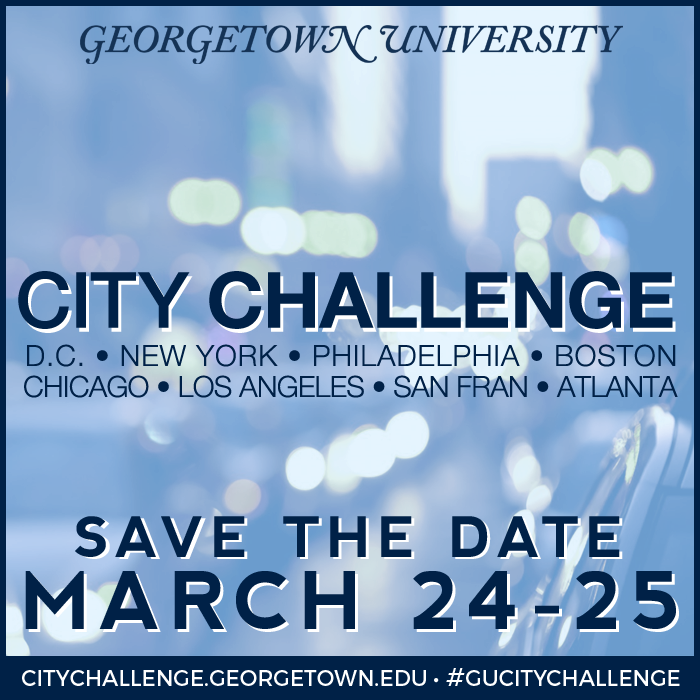 On

March 24-25

, Georgetown is holding its third annual "City Challenge," a 24-hour giving challenge to raise funds for student scholarship at Georgetown through friendly competition between 8 cities with the largest undergraduate alumni. We're excited to host a City Challenge event at one of our favorite Hoya-owned bars, Tonic! We will be having a happy hour with an open house bar (beer, wine, rail drinks) from

6-8pm

with light appetizers. Donations can be made any time during the 24-hour event, but we'll have direct access to donate at the event as well! So come join us for a good cause (and go San Francisco!) we "sip for scholarships" at Georgetown.

Hoyas Give Baxa 2015: San Francisco
Beach Clean-Up with SF Surfrider


Saturday, March 28, 9:30am-Noon


Baker Beach, San Francisco
For more information and to register, please click here




Help us be "men and women for others" as we join cities across the country in annual Hoyas Give Baxa events! This year, we will be volunteering with San Francisco Surfrider to clean up Baker Beach, a mile of sandy coast along the Presidio's western shore with spectacular views of the Golden Gate Bridge. Gloves, buckets, and trash grabbers will be provided, and meeting points for carpools will be arranged. Come for the clean-up, then if you'd like, stick around to carpool to Park Chalet restaurant for lunch afterwards and socialize with fellow Hoyas.
Do you remember John Carroll Weekend 2011 in San Francisco? Did you know that John Carroll Weekend is coming back to the West Coast, Los Angeles, in about a month,

April 16-19

? As a California Hoya, this means that the best of Georgetown is coming to you. This is expected to be the largest gathering EVER of Georgetown alumni west of the Mississippi!
John Carroll Weekend will feature a variety of events, including formal receptions, tours, tastings, and more. Please note that there is not an overall registration fee for John Carroll Weekend, but rather you can register for each event on an a la carte basis for your convenience (some are free, some have a cost). Consider coming for the whole weekend, staying for a day, or even joining for a single event.
With spring sale fares for flight between the Bay Area and Los Angeles, this is a perfect opportunity to experience the best of Southern California with Georgetown. There are several Beverly Hills hotels with which Georgetown has negotiated special rates for the weekend, including a hotel specifically for young alumni, the Sixty Beverly Hills. Please click
here
for hotel information, and act soon, reservation cut-offs are approaching!
Events are filling up and others are being added, so we invite you to check out the schedule and register at http://jcw.georgetown.edu/2015/ so that you can be part of this special Georgetown tradition.
Finally, we are considering ways that our NorCal Hoyas members can coordinate travel and lodging, depending on interest.
Please e-mail us (norcalhoyas@gmail.com) if you're interested in coordinating with other Bay Area Hoyas, and we can connect those who are interested!
"Hoya Hoopes" - 40% off cases, and 10-20% off select wine bottles


College basketball season brings a special promotion from Hoopes Vineyards
Discounts for Hoya fans only, available until

April 6

, date of NCAA Chamionship Game
Brought to us by owner and friend of the club, Lindsay Hoopes (C'03)


To learn more about a great promotion and spectacular deals on cases and single wine bottles exclusively for Hoya fans, please visit the post on our website here!
SAVE THE DATE:
Wednesday, April 29

: Georgetown Tech Alliance Event in SF - Wine + Tech
More details coming soon!