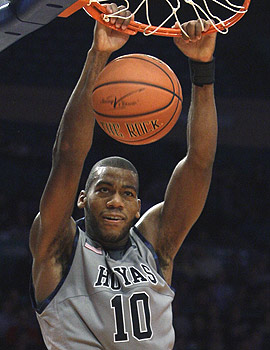 Golden State Warriors vs. Detroit Pistons
Tuesday, November 12, 2013, 7:30pm
Watch former Hoya great Greg Monroe
All Georgetown Alumni are invited to sit courtside to watch warm-ups from

6-6:30pm

!
Order Deadline:

Monday, October 14
Bay Area Hoyas,
We worked with the Golden State Warriors to offer Hoya fans an amazing deal. For $23 (already a discount from public pricing), we will not only get to cheer on former Hoya and NBA star Greg Monroe when the Pistons face the Warriors on
Tuesday, November 12th
, but also have the EXCLUSIVE chance to see his team up close during warmups before the game! We have done this before with Jeff Green when he played for the Thunder, and it was an unforgettable experience as we got pictures with him before the game!
We have reserved a special bloc of seats for the game, which will be only available until
Monday, October 14
(less than 2 weeks away!). You can buy via this
special link until that time, so please don't delay and join our group of Bay Area Hoyas for this memorable experience! The password is: WARRIORS.
Tickets are extremely limited and are in the Club 200 Sideline section. Purchase through the above link and pay NO taxes or fees.
For questions please contact Nick Smith at
510-986-2247 or via e-mail at nsmith@warriors.com. For any further questions about this event or NorCal Hoyas events in general, please contact Events Chair Earl Dos Santos at earl.dossantos@gmail.com.
See you there!